Life Insurance Is Your Personal Property
Life insurance policies are your property, not the insurance company's. Therefore, it is your choice if you want to sell your policy. 
Abacus Life offers the option of life settlements. It is both a legitimate and reliable choice in order to create financial options for your future. Life insurance is often a senior's largest asset, and one they can use to alleviate retirement challenges like medical expenses, living costs, and more. Knowing that you are well-equipped with a policy that best meets your needs is crucial. Why sacrifice a policy that you spent years paying into, when you can exchange your premium payments for a cash lump sum payment now? 
Get a free, instant estimate using our Life Settlement Calculator above or contact us at 800-561-4148. 
We would love to help you. 
Our Mission
Abacus Life Settlements is the largest direct provider in the life settlement industry for the last 19+ years. The company was originally formed in New York's financial district in 2004, and is now headquartered in Orlando, Florida. We employ 90+ employees who collectively work to aid clients in their life settlement needs.
Like many other people, we understand that you may have a policy that no longer meets its goals. We are here to help.
We strictly adhere to HIPAA and privacy laws to maintain and protect the confidentiality of financial, health, and medical records.
Abacus is also proud to be a BBB Accredited Business with an A+ rating.
For a full list of states that Abacus is licensed in, click here.
We empower you with the information you need to decide if selling your life insurance policy, or even a portion of it, is right for you. We will walk you through the entire process from start to finish, answering any and all questions you may have. Our life insurance settlement professionals have worked with all levels of cases, and our expertise is unmatched within the industry.
We are committed to serving you with the utmost confidentiality, transparency, and urgency you deserve.
What is a Life Settlement?
By definition, a life settlement is the sale of a life insurance policy facilitated by a licensed provider like Abacus, in exchange for a lump-sum cash payment. 
The value of a settlement is always higher than the policy's surrender value, and clients often receive 4-6x more than what they would through surrendering their policy directly back to their life insurance carrier. 
The Abacus Learning Center is an excellent resource for a deeper dive into what a life settlement entails, along with more information about the entire process. Feel free to view case studies based on past clients, a detailed history of the industry, and specifics of life settlement taxation. If you have any questions that were not addressed in the Learning Center, or would like to get started on your life settlement, please reach out to us at 800-561-4148.
We take a unique, client-first approach to the life settlement industry.
Transparency
At Abacus, we believe in empowering our clients to make the best possible decisions for their life insurance policy.
That means full transparency in how we generate your life settlement offer.
Privacy
Abacus Life is HIPAA Certified and fully licensed on a national scale.
Pursuing a life settlement is a sensitive process, and it is crucial you work with a reputable and certified company.
No Middlemen
Abacus is a direct buyer of life insurance policies.
Not only is your personal information kept personal with Abacus, but you also receive your best life settlement offer through the direct buyer that most brokers already use.
24-Hour Quotes
With a simple phone interview and some basic policy information, Abacus can generate an approximate value for your policy.
The Life Settlement Calculator can also provide highly accurate results.
Different Types of Life Settlements
While researching the space, you may have already seen the term "viatical settlement," and you may have read about retained death benefit as an option available to potential policy sellers. The terminology can be confusing, especially when terms like viatical are so unique to life settlements. We'll do our best to better explain it all below:
This type of transaction commonly pertains to seniors. Seniors can qualify for a life settlement if they are over 70 years old and/or have health impairments that affect life expectancy.
Most types of policy types qualify, including term life insurance.
A life settlement is not a loan, it is a one-time cash transaction that results in a full transfer of ownership in exchange for a lump sum cash payment.
Life Settlement Guide
A viatical settlement can be defined as an arrangement in which someone who is terminally or chronically ill sells their life insurance policy at a discount from its face value for cash now.
If the insured is terminally ill with a life expectancy of fewer than two years, a viatical settlement can provide the financial assistance needed.
A viatical settlement is typically tax-free. A medical professional, usually a doctor, confirms the terminal diagnosis.
Viatical Settlement Guide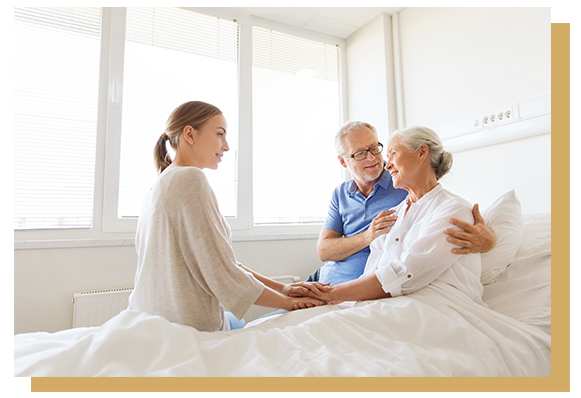 A retained death benefit allows the policy owner to retain a portion of their life insurance policy's death benefit, rather than receiving a cash lump sum payment (traditional option).
This allows the buyer to take over 100% of premium payments and there are no further obligations to the seller.
In the circumstance where the insured individual dies, the beneficiary receives their guaranteed percentage portion of the death benefit payout and the fund will receive the death benefit for the portion of the policy they purchased.
This option is available to seniors and those who are chronically/terminally ill who qualify. Retained death benefit eliminates premium payments to the seller while maintaining a death benefit payout to beneficiaries.
No matter your circumstances, we have a solution. 
You Have the Power to Decide How the Policy Should be Used
BILLION is forfeited back to life insurance companies each year in the U.S.
of seniors would have considered a life settlement if they knew it existed
Why Should I Sell My Life Insurance Policy Through a Life Settlement?
There are many reasons to begin pursuing a life settlement. It is entirely a personal matter and should be carefully discussed with family and financial advisors. Here are some common reasons people choose to sell their life insurance policy: 
You can no longer afford premium payments
Depending on the terms of the policy you own, changes in the insurance market could drive up the price of the premiums you pay. Many potential policy sellers that are nearing a policy lapse choose to make a life settlement rather than surrendering the policy back to the insurance company. 
Supplement your retirement fund
Others sell their policy with retirement benefits in mind. A life settlement is an excellent way to supplement savings in your golden years. 
Alleviate medical care or other expenses
Life settlements are also a viable alternative when it comes to assisting with medical bills. By choosing to sell your life insurance policy, you can pay off the entirety of your medical bills and build your savings. 
Your life insurance policy is no longer needed
As a person transitions through various stages in life, they may find that they no longer need their policy. Instead of surrendering the policy and receiving less payout, a settlement could be financially beneficial if they qualify.
Real
People
with
Life-Changing
Results
Sandra got $110,000 for her $200,000 policy
Sandra was struggling under the weight of high monthly premiums and needed resources to help with medical care and family needs.
Read Sandra's Story
William got $1.2 million for his $5 million policy
William and his family decided that his policy was no longer needed for their estate plan and considered surrendering it to the insurance policy for a low payback.
Read William's Story
Frequently Asked Questions
How Do I Sell My Life Insurance Policy?
Once you use our calculator, we can run a valuation on your policy quickly and easily. After that, you may be eligible to follow through with the process. 
While every provider handles the life settlement process differently, it really comes down to a six-step process:
Qualify
The Offer
Expectations/Application
Contracts
Verification
Funding
How Much is My Life Insurance Policy Worth?
The value of your policy is based on three factors: Age, Policy Type & Policy Value. Use the Abacus Life Settlement Calculator to see your policy's value in minutes. 
Are There Any Expenses to Use Abacus?
Ultimately, we are here to help you. We do not charge for any of our policy value estimation services or consultations. Abacus is dedicated to making sure that you have the knowledge and resources to help make the best decision for you and your family. 
Can I Sell My Life Insurance Policy?
Simply put, yes. You are able to sell your life insurance policy if you meet the qualifications. Many types of life insurance policies qualify, including term life.